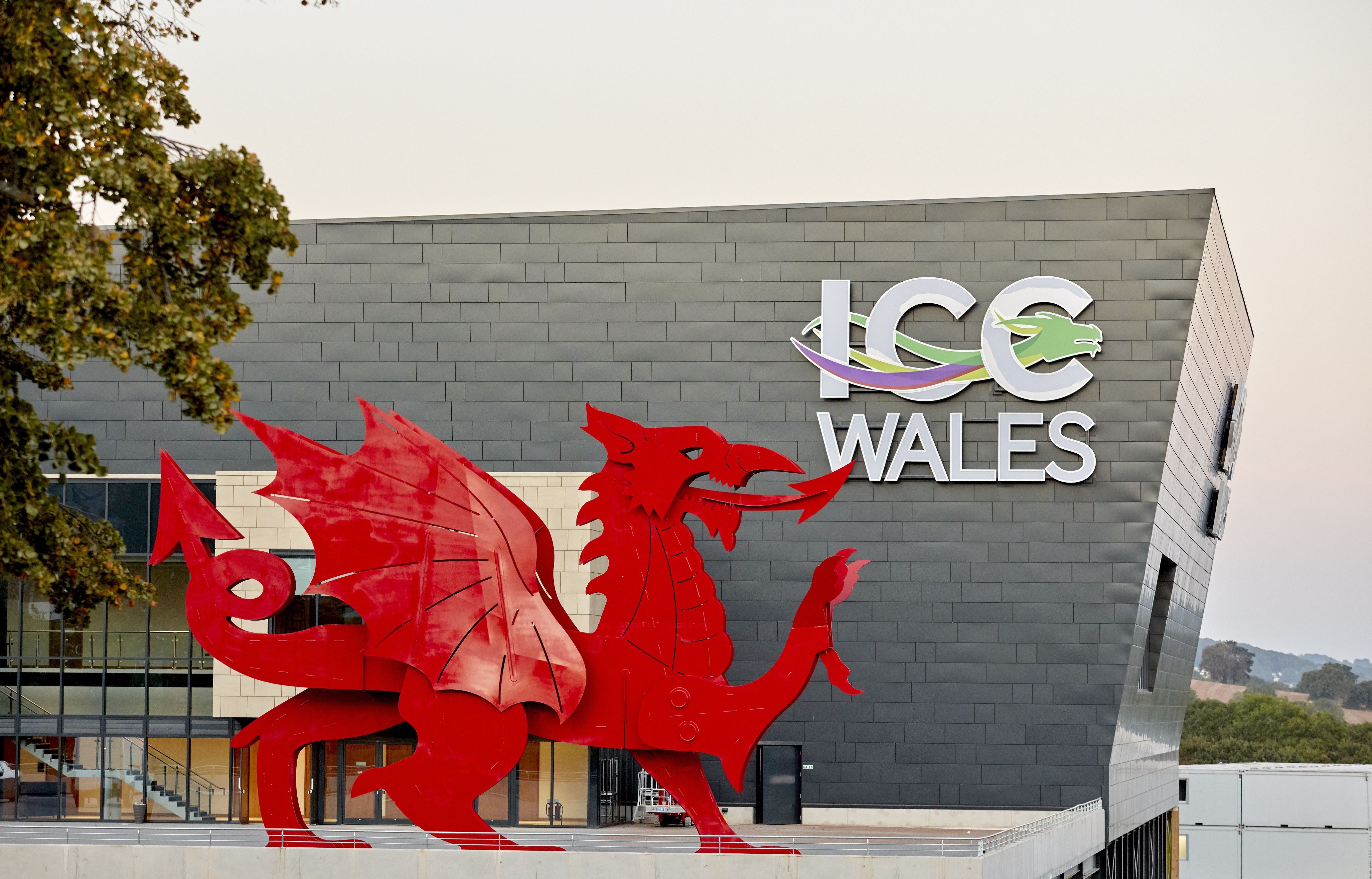 From the first time you spot the giant Welsh Dragon standing proudly on the side of the M4 to those very first few steps as you walk into the expansive atrium, you know you've arrived at a special new venue!  Bright, light walls are adorned by live nature displays. Smiling staff guide and help.  And then there's the WOW factor as you enter the vast auditorium or giant Main Hall and wonder how the suspended ceiling stays in situ without pillars!  The ICC Wales is clearly "top of the venue range" when it comes to large meeting venues. 
But it hasn't just happened overnight. Staff have been on a decade long, global journey since the idea of bringing a World-class convention centre was first mooted.  Focus groups of booking agents, association representatives, corporate clients and production companies have all been asked what they want from the perfect venue. And now that vision is very much a reality thanks to the foresight of Sir Terence Matthews the local Newport boy who has gone on to become Wales' first billionaire. Sir Terence and his team are no strangers to big thinking having developed the now world–famous Celtic Manor Resort which hosted the Ryder Cup – the third largest sporting event in the World and a NATO Summit when the largest gathering of world leaders in the UK's history attended. The ICC Wales is a proud addition to the national and international convention scene. 
LOCATION
Located within the grounds of the Celtic Manor Resort in Newport, South Wales and just two minutes from the M4/ motorway network. Under two hours from London Paddington by train. Taxis from the station take 15 minutes, but why not "go-green" and jump on Newport's electric bus network which runs through to the ICC Wales.  Those travelling by air are well served by Bristol and Cardiff Airports which are 40 minutes away. An 800–capacity car park directly underneath the ICC Wales guarantees quick and dry access to the Centre. 
WHAT'S ON OFFER
The newly built 26,000 sqm ICC Wales flanked by ancient woodland accommodates more than 5,000 delegates at a time and includes a 4,000 sqm main hall which can be sub-divided into numerous configurations with technically advanced LED lighting systems. The 1,500–seater auditorium is truly impressive and 16 flexible meeting rooms, many with floor to ceiling windows ensure bags of natural light, putting delegates very much in touch with nature and cleverly giving the illusion of the outside being in the heart of the centre itself. A double-height glass atrium and a 2,500 sqm outdoor plaza for events and teambuilding completes the picture.  
WHY BOOK?
Over eight years in the planning and construction – here's 8 good reasons why you should hold your next event at the ICC Wales: 
Complete f

lexibility of

space

,

suitable for

small

board meetings

t

hrough to

large

scale

conventions, conferences, exhibitions, award cer

emonies and

other

special events

.

You can even drive an

articulated vehicle

into

the Main Hall i

t'

s that big!

 

Sustainability

i

s

key

focus

for all

event

s

. From

free to use

water fountains

and

numerous re-cycling

stations

,

through to

el

ectric charging points

for cars

and

s

ophisticated heating

/

lighting systems

to

conserve energ

y

.

 

Wellness

&

wellbeing

with

an

emphasis on

how the

natural world can enhance event

s

is more than just m

arketing speak

.

D

otted around the building are verandas for delegates to get fresh air whilst

viewing

Coldra

Wood. F

or

those of

a

more energetic

disposition

,

cross the bridge and head for "Ponder Pods", covered outdoor meeting spaces which give event planners

interesting options

to

hold campfire breakout sessions or small meetings.

 

The ICC Wales's

Mind, Body and Soul

(MBS)

p

hilosophy keep

s

delegates

mind

s

alert through

the

exploration of the science behind the ingredients chosen

for

the

varied

menus.

"Grazing" menus, tasty superfoods to invigorate and dishes high in protein help maintain energy levels, fight fatigue and keep delegates productive.

 

The

Celtic Manor together with other

nearby

properties in the

Celtic Connection

group provide over 800 beds

to suit different budgets

.

H

ead a few miles down

the road to

Newport or

further west

along the M4 into Cardiff and there are

plenty of

rooms for

even

the largest of events.

 

Options for

external

entertainment and partner programmes

are extensive

for those

delegates want

ing

to explore local places of interest or experience a change of food scene. The

ICC Wales

Events

T

eam are full of ideas and

have

a

"

black book

"

full of suggestions

for

anyone that asks.  

 

We

love the fact that the

event

organisers office has a shower in it.  Now that's clever!

 

You're guaranteed a

warm Welsh welcome from professional, well trained staff who offer solutions rather than simply a space

to hold

an event

.

 
FLEXIBILITY OF ROOMS FOR DIFFERENT CLIENT EVENTS 
The ICC Wales certainly appeals to a wide variety of different clients. In the first few weeks since the doors opened, corporate businesses holding events or attending onsite visits have been impressed by the versatility of the space whether for a Board Meeting for 12, a sales conference for 500 or a glittering gala awards dinner for 1,000+ guests. Member organisations such as associations have the perfect combination of large meeting room options coupled with space alongside for all important commercial exhibitions. Charity fund raisers will be impressed with the rates on offer. And exhibition planners organising events for members of the public can be safe in the knowledge that there are plenty of food and drink outlets, minimising queues.   
The success of appealing to such a diverse group of clients is largely due to the flexibility of room layout plus their contemporary look and feel. The Main Hall with its sound-proof partitioned walls can be divided into 10 separate spaces giving a combination of options for meetings, networking events, exhibiting and eating. Easy access for set up and de-rig crews is already proving to be a big winner. The auditorium is split equally, with 750 people capable of being hosted in the upper and lower tiers. Then there's the spacious 2,500 sqm outdoor plaza suitable for summer exhibitions, fresh air networking sessions and alfresco breakouts. Plus, don't forget the other 16 rooms around the centre, the numerous networking and break out areas, the 210 sqm Aspect Bar and the Ponder Pods in the Woods. 
GREAT DESIGN – CUTTING EDGE IT & AUDIO-VISUAL TECHNOLOGY 
We love the attention to detail shown in the planning and design of the ICC Wales. The auditorium with its unique purple, pink and grey pastel seats makes the 1500 capacity venue look full even when not fully occupied – clever.  Lighting in the Main Hall is not your standard white light. Instead, different colour lighting states transform rooms to not only reflect clients' corporate brand/logos but also to create a completely different look and feel to mirror the occasion, mood or event subject matter. Bright yellows stimulate and motivate, calming greens and blues produce a more reflective mood, a clear nod to nature and a reminder to step outside….    
As you would expect, being a completely new-build, the facilities, IT infrastructure and technical equipment at the ICC Wales is cutting edge and much is included in AV packages:   
Plug sockets, USB charging points and writing desks at each

auditorium seat

 

Intelligent lighting and integrated presentation technology 

 

Projection, screens and displays

with the facility to move equipment anywhere in the centre

 

HD cameras both operator and automated

 

Live audio and video relay available to any breakout space

 

High speed Wi-Fi which supports ultra HD video

 

Rigging and branding points

throughout all areas

 

A

10 Gigabit

IT network

which

offers organisers total

resilience

 

Hardwired connection for registration

and

online delegate payments

 
SUSTAINABILITY – HARDLY STANDARD 
Sustainability has been a high priority in the design and construction of the ICC Wales which is committed to representing 'best practice' in all areas of sustainable service delivery. Already awarded the Welsh Green Dragon Level 3 status following an audit upon opening, the venue has also been granted the Green Key, the largest global eco-label developed by the Federation for Environmental Education. So, what does this all mean for event organisers and their delegates? 
W

ater fountains

throughout the venue offer free-to-

use reusable plastic bottles

. There is

no single-use plastic in the venue.

 

 

D

ual flush toilets and sensor driven urinals reduce water consumption in all areas of the convention centre. 

 

Recycling stations

are located

throughout the venue

with a s

trict 'zero waste to landfill' policy

enforced

. 

 

All

food waste is

tankered

from a central holding facility supplied by

all of

the kitchens in the building and sent to Bryn Power anaerobic digestion facility to generate low carbon electricity for the South Wales grid network.

 

There are six

elec

tric vehicle charging bays in the

car

park: two fast 7.2KW Type-

2

Rolec

charge points and

four 13A 3 pin sockets, with the option to install more charging points as required by increased demand.

 

A combined heat and power generator (CHP) has been installed which generates around 650,000 kwh of electricity across the year – a figure expected to be around 20% of the venue's annual consumption. The biproduct of CHP provides efficient heating across the convention centre and reduces emissions of greenhouse gases.

 

Underfloor heating has been installed to make the most efficient use of the heating provided by the CHP process. In addition, all air handling units have been installed with thermal wheels

t

o recover useful heating and cooling from function spaces to efficiently maintain temperatures across the venue.

 

The latest Siemens building management system has been installed to control the building in the most efficient way possible. All venue zones are maintained at an efficient temperature and are only activated when in use. A central schedule is adjusted daily to account for upcoming business and all areas of the convention centre not in use are

closed down

. The duty manager also has access to a remote iPad to ensure that any

last

–

minute

requests from clients are implemented immediately with the building efficiency in mind.

 

The f

ront of house area

is

naturally ventilated

meaning n

o active cooling is used in the main atrium.

A

utomated window dampers along the front of the building and on the

second f

loor create a natural draught through the building. This removes the cooling demand and therefore electricity consumption is

reduced.

All glass

is

tinted to avoid heat gain

from sunshine.

 

LED lighting is installed throughout the venue for low energy lighting with no heat emissions. Lighting in the car park and back of house areas is all operated solely by movement sensors so there are no light switches, meaning lights are not left on when not in use. Car park lighting dims to 10% when there is no movement and during the

daytime

, all lighting automatically switches off. 

 
WELLNESS AND WELLBEING – THE GREAT GREEN OUTDOORS 
When it comes to large venues and convention centres, the ICC Wales is leading the way in recognising the importance of wellness and wellbeing and is very much focussed on  
how to leverage the positive benefits of its natural setting.  So serious are the event teams that they've produced a report entitled The Great Outdoors – How The Natural World Can Enhance a Business Events Experience.   
There are some fascinating facts to digest.  For example, walking meetings can be very beneficial for delegates. "A Stanford University study on the positive effects of walking on creativity found that walking "improves the generation of novel yet appropriate ideas", with the effect remaining even when people sit down to do their creative work shortly after. They also noted that walking outside produced the most novel and highest quality ideas."    
ICC Wales has several walking and running trails in the nearby ancient Coldra Woods which provide an excellent opportunity for event organisers to integrate an experience in nature for conference delegates. Many people away from home expect to be able to continue their fitness regime and exercising outdoors has been shown to be have a greater beneficial effect on mental health than exercising indoors.  Going one step further, the ICC Wales has also compiled a TEN POINT GUIDE (page 32) to making your event nature-friendly.  It's well worth a read, but for a quick taster, here's our top five tips from the Guide: 
Integrate natural environments from the start – think about how you can use surrounding or nearby natural spaces in your event.

 

Keep your agenda flexible to allow time to be spent outdoors and enough time to reconvene.

 

Incorporate walking meetings, outdoor creative brainstorming and other breakout sessions that can take place in nature.

 

Use natural sounds (birdsong, waves, waterfalls) throughout the event footprint

 

Make sure there are images of greenery and nature throughout the event or that there is access to views of nature outside.

 
But of course, the sun doesn't always shine in Wales – which is why the design of the ICC has been so clever in bringing the outside inside. With so many large open bright spaces, light floods in even on dull days and where it doesn't, the sophisticated vary-coloured lighting systems really do give the sense of being outdoors.  Plus, don't forget you're inside a 26,000sqm venue and if it does rain there's plenty of places to walk around and yes, your eyes really haven't deceived you! On the second–floor mezzanine level there's a "living wall" featuring verdant green carpets of Reindeer and Bun Moss together with innovative "framed pictures" created purely from striking multi-coloured plants. 
FOOD FOR THOUGHT – MIND BODY SOUL  
The idea of serving nutritious, locally sourced foods is not a new idea for many smaller venues. But for a centre as large as the ICC Wales to successfully deliver is a big thing. The ICC has certainly raised the benchmark when it comes to convention food offerings thanks to its' innovative culinary thinking linked directly to its Mind, Body and Soul (MBS) Initiative. The MBS philosophy aims to keep delegates minds sharp, their body strong and soul nourished, with the principal aim of heightening attentiveness, concentration and ultimately upping productivity.   
This nutrition to fruition principle derives from the ICC Wales's exploration and understanding of the science behind the ingredients chosen in their menus. The passionate culinary team is led by Director Peter Fuchs and his Executive Chef, Michael Bates who believes firmly in the three key menu essentials: 
Superfoods

,

fresh fruit and vegetables

– are

prominent

ly

feature

d

to help bring out the best in delegates 

Produce is sourced from local and regional suppliers wherever possible

Dishes always aim to be high in protein and low in saturated fats to help maintain energy, fight fatigue and sustain focus throughout the day, keeping delegates as productive as possible 
Local sourced food has been a big consideration.  Castell Howell is a wholesaler championing Welsh produce and one of Wales' leading independent food wholesalers who started out over forty years ago as a cow and chicken farm in West Wales. Douglas Willis is a family owned business devoted to producing meat from pasture to plate. And Shervington Farms located on the Gwent Levels near Newport has produced free range eggs from free to roam hens for four decades.  
Menus for every conceivable event and importantly diet are extensive and run into pages.  The Super Food SF logo is prominent in all menus. For breakfast, why not try Welsh yoghurt with a choice of fillings – muesli, rolled oats, apple, pear and Hilltop honey? Check out the Merry Berry a mix of acai berries or Tropical explosion – mango puree, pineapple pieces and toasted coconut. At lunchtime the Super Food theme continues with an extensive choice including five bean salad with herbs, lemon and olive oil and Thai green chicken with broccoli. For those with limited time you can always "Grab and Go" or why not consider have a picnic in the woods with a specially prepared packed lunch? 
Interestingly the ICC Wales's thinking goes well beyond simply the preparation and presentation of food for event delegates and guests. The Event Management team are quick to advise on catering flows, potential eating formats and the all-important relevant space required to eat comfortably. Rolling coffee and tea stations are alternatives to fixed time breaks and sit–down dinners are giving way to shorter more "informal" eating environments popular particularly amongst younger delegates who "graze" healthy food whilst networking. 
GOOD TO KNOW!
The ICC is committed to offering access for all and

are

providing

rooms

for people with profound disabilities who need extra equipment and space to allow them to use toilets safely and comfortably

.

 

Whilst

a large venue

, the ICC

is

g

reat

too for

smaller meetings and events

.

E

verywhere you look there are "nooks" where small networking and breakout groups can happily meet without being disturbed.

Tables are strategically placed

with

panoramic woodland vistas

.

 

D

emand for large scale traditional dinners and award ceremonies at the ICC is high. And in terms of sheer size, the Main Hall has the capacity to host 2,400 people in one sitting for a gala dinner

,

in Europe's largest pillar-free ballroom.  

 

Fancy a break? Check out the wildlife watching stations and see what you can see!

 

Consider using the d

ifferent access

and entrance

points

at the front of the building to personalise

your event

.

 

For

events with VIPS it's good to know that

Green room

s are located next to the

car park

.

 

 
BEAR IN MIND…
Demand from a variety of event organisers is sure to be high and with association

conferences

and

major corporate events

often booked

up to ten years in advance for

peak

months such as June and September, booking early is recommended to avoid disappointment.

 

Whilst the general traffic conditions in and around the ICC Wales are good and road infrastructure has been

improved

, local roads can be busy around the "school run" period at both ends of the day.  Factor in if you have a train to catch.

 
ANYTHING ELSE?
There are so many hanging points around the building and in the main entrance atrium – perfect for branding or suspending the moon (National

S

pace Conference).

 

The fresh bean to cup coffee is excellent, the Welsh tea special and the cold refreshment stations where water's on tap a big hit.

 

The ICC Wales are on a mission to ensure that as many businesses as possible in the Newport area benefit from this exciting new project and the anticipated influx of people coming to the ICC Wales.  Check out the centre of Newport with its' Cathedral, the famous Transporter Bridge and of course the beach.

 
IT'S A WRAP – SERVICE IS THE SECRET
There is no doubt that the ICC Wales is a big new shiny venue and perhaps some cities in the UK if they had such an impressive venue might be a touch "snooty".  But no such worries in South Wales.  Proud yes, arrogant no.  The staff recognise that they have a world-class venue but appreciate fully that service is ultimately what it's all about.  It's rare for us to single out any one staff member in a meetingsclub editor's destination.  But rules are there to be broken, so step forward Sales Director Danielle Bounds who leads a team of 15.  Danielle exudes passion and is highly knowledgeable, having worked in key operational event management roles at Celtic Manor.  It's because of her "back to the floor" experience that Danielle instinctively knows what will and won't work and her desire to provide the right event solution each and every time is impressive. Throw into the mix a genuine warmth which extends to other members of her team and you can see why the ICC Wales has already discovered that #serviceisthesecret.